30 October 2014
On Friday evening at the Don Andres restaurant an international evening was held with the performance of the singer 'Rian'. The traditional Friday night BBQ was replaced this time with some specially prepared dishes. Over fifty guests were there to enjoy the food and the music.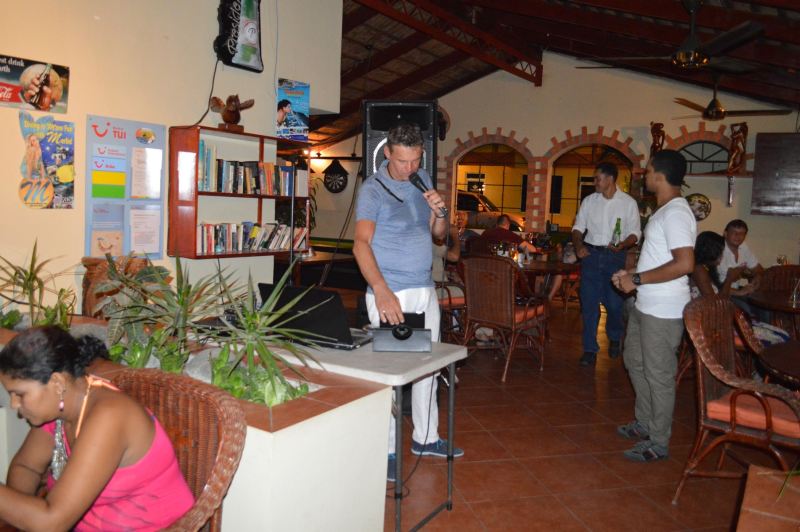 International evening
---
---
29 October 2014
Sunday evening about seven o'clock, Óscar Taveras was killed along with his 18 year old girlfriend Yamali Arvelo in a car accident on the highway between Sosúa and Cabarete. He was driving his Camaro and by unknown causes, ran into an obstacle with terrible consequences. Óscar Taveras was born in Los Castillos, Sosúa and was considered a great baseball talent. Already at the age of 16 he was discovered as a talent and he was drafted in the Águilas Cibaeñas team where he starred. Not long after this, he got a contract with the St. Louis Cardinals, the professional baseball team from San Luis in the USA. In the USA he was also recognized as a great baseball talent.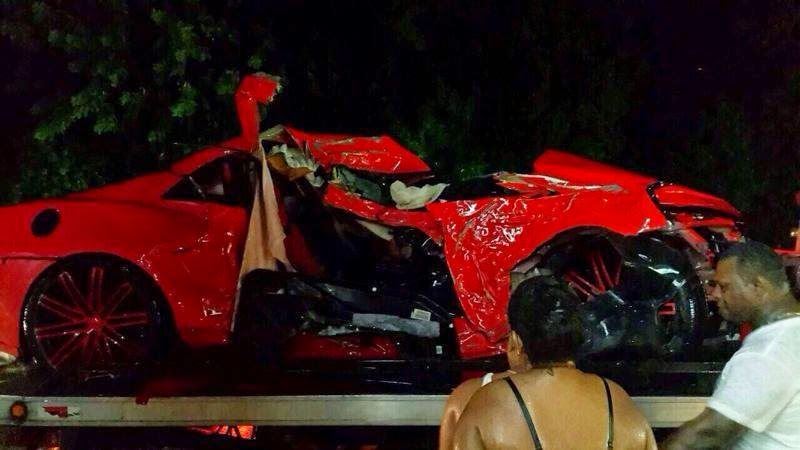 The Camaro after the accident
---
28 October 2014
In the weekend of 17 to 19 October, for the fifth year an International Congress of Writers in was held in Sosúa. The conference is organized by the Thursday Evening Writers Collective of Sosúa. These writers gather every Thursday evening at the Waterfront restaurant where they recite prose and poetry, and criticize each other's work. For the fifth International Congress storytellers, poets, artists and interested parties from across the country were invited, and offered a stay at the Victorian House Hotel. The different workshops and lectures were held in the upper room of Casa de Arte (cultural center) of Sosúa. Nationally known authors such as Manuel Salvador Gautier, Rafael Núñez, Leonardo Nin, Alexis Gómez Rosa contributed from their own work. The authors also used this opportunity to bring their newest work under the attention of the audience.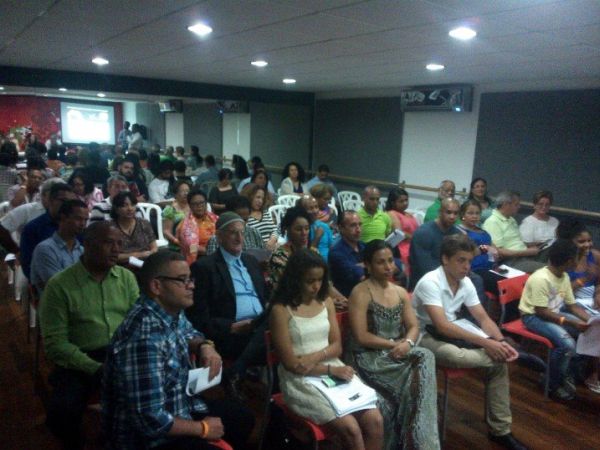 Fifth International Writers Congress
There were also performances by famous rap and performing artists to make the audience aware of their artistic expressions. The conference came about thanks to the efforts of the Thursday Evening Writers Collective consisting of Omar Messon, Ramón Gil, Moisés Muñiz and Óscar Zazo, all residents of Sosúa.
---
27 October 2014
From Thursday, November 6th through Sunday, November 9th the 18th Dominican Republic Jazz Festival takes place. The impressive festival will take place in Puerto Plata, Sosúa and Cabarete. For the festival world famous musicians from Canada, the USA, Cuba, Puerto Rico, France and the Dominican Republic have been contracted.
The program:
6 November
Puerto Plata - Parque Independencia - 8:00 PM
• Big Band conservatorio Santo Domingo (DR)
• Pat Pereyra & band. (DR) Musical directors: Rafelito Mirabal y Guy Frometa. Special guests: Alex Jacquemin (Francia) and Míguel Fenton (DR)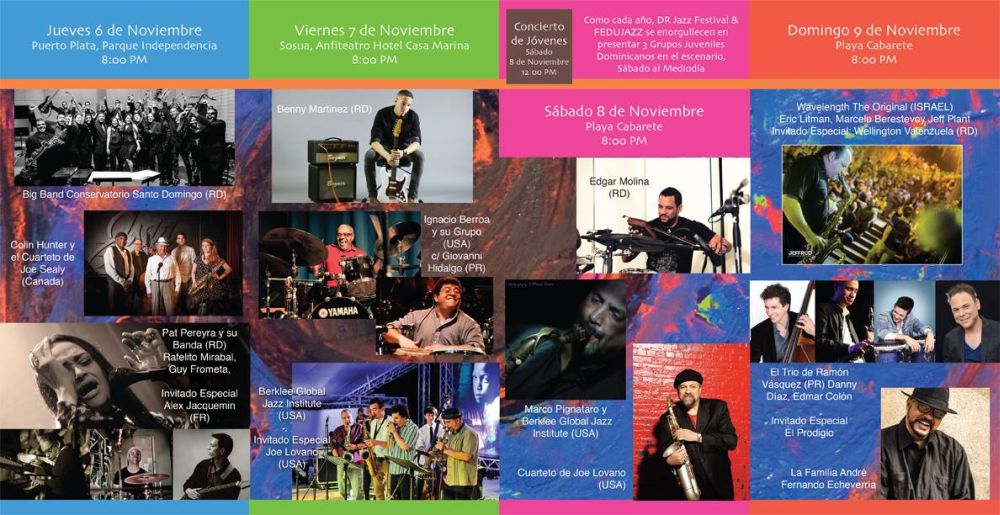 DR Jazz Festival 2014
• Colin Hunter (CAN) sings with the legendary pianist Joe Sealy's quartet (Drums: Daniel Barnes; Bass: Paul Novotny; Sax: Alison Young)
7 November
Sosúa - Hotel Casa Marina Amphitheater - 8:00 PM
• Benny Martinez (DR)
• Ignacio Berroa's quartet (USA) special guest: Giovanni Hidalgo (PR)
• Berklee Global Jazz Institute (USA) with special guest Joe Lovano (USA)
8 November
Cabarete Beach - 8:00 PM
• Edgar Molina (DR)
• Berklee Global Jazz Institute (USA)
• Joe Lovano's Quartet (USA)
9 November
Cabarete Beach - 8:00PM
• Wavelength The Original (Israel)
• Ramón Vázquez Trio (PR) with Edmar Colón, Daniel Díaz, Raul Maldonado and Yan Carlos Artime (PR) special guest El Prodigio (DR)
• La Familia André (DR)
The Jazz Festival 2014 is sponsored by, among others, the Ministry of Tourism, Municipality of Sosúa, Ron Macorix, Sea Horse Ranch, Millennium Hotel, Ultravioleta, Century 21 and Casa Linda.
Web: www.drjazzfestival.com
---
26 October 2014
Recently, the first series of practical and theory lessons music (playing stringed instruments) was successfully completed by the students. The students were awarded a certificate in the upper room of Casa de Arte (cultural center) Sosúa by Mayor Ilana Neumann. Venus Guerrero, the music teacher, has taught the students for almost a year music lessons and practice. The teacher taught the students according to the GOCESSA educational system. A highly acclaimed and successful lesson plan, introduced in the Dominican Republic by Hipólito Javier Guerrero.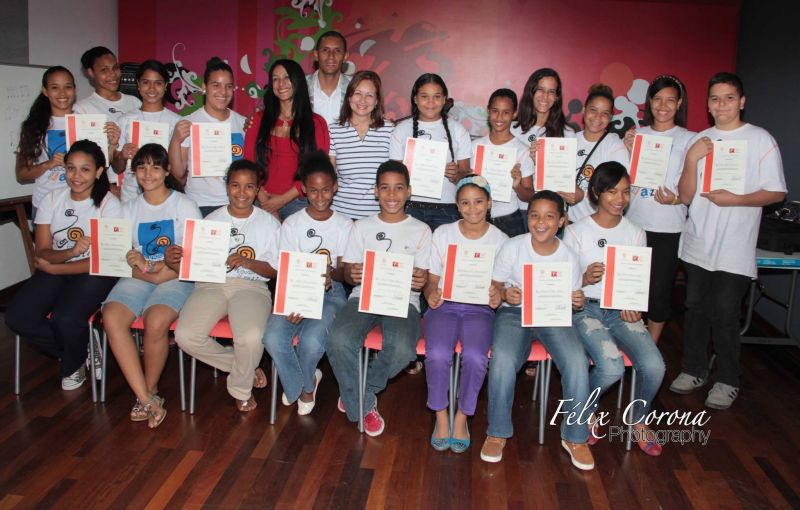 Students receive certificate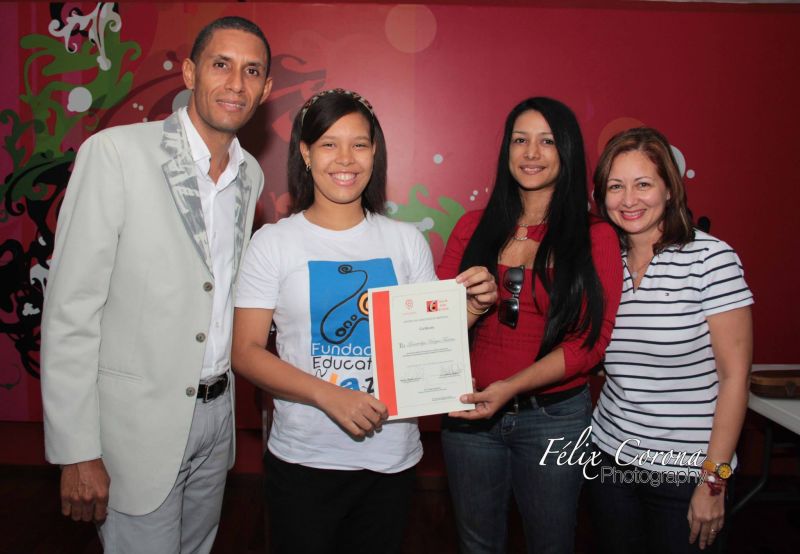 Students receive certificate
Hipólito Javier Guerrero studied music at the National Conservatory in Moscow, where he developed this educational reform, and now also has been used successfully on the music students of Casa de Arte in Sosúa. Obviously the award of this certificate is only a marker of an intermediate step in a long road of hard work and study. But the results already achieved are astonishing.
Information and photos: Félix Corona
(Press officer municipality Sosúa)
---
Sosúa
¿Qué pasa?
««««««« »»»»»»»
Tropical Hotel Restaurant Voramar
With DJ for the best
Bachata Merengue and Salsa music
---
Sunday November 2
---
Sosúa Bay Center November 7
---
Fiesta Halloween
---
Residencial Casa Linda
---
Voramar Tropical Hotel
---
Arrival and Departure Puerto Plata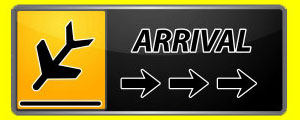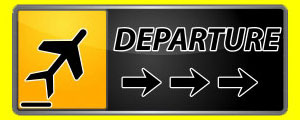 ---


---
25 October 2014
24 October 2014
23 October 2014
22 October 2014
21 October 2014
20 October 2014
19 October 2014
18 October 2014
17 October 2014
16 October 2014
15 October 2014
14 October 2014
13 October 2014
12 October 2014
11 October 2014