Latest news
---

15 December 2017
Saturday December 16 from 11 AM until 5 PM the main street Pedro Clisante will be closed for traffic from Calle Duarte to Cafe Cubana. The street hosts the Christmas Street Fair and Market again this year where individuals and business owners can sell their wares, like ice cream, jewelry, clothes and all kinds of drinks and food. For children there are various activities such as a bouncy castle, coloring, mask making, but there is also a tombola and much more. From 2 PM the 'Dream Contemporary Music Band' will perform live music. In the early afternoon Santa Claus will also be there of course.
---
---
14 December 2017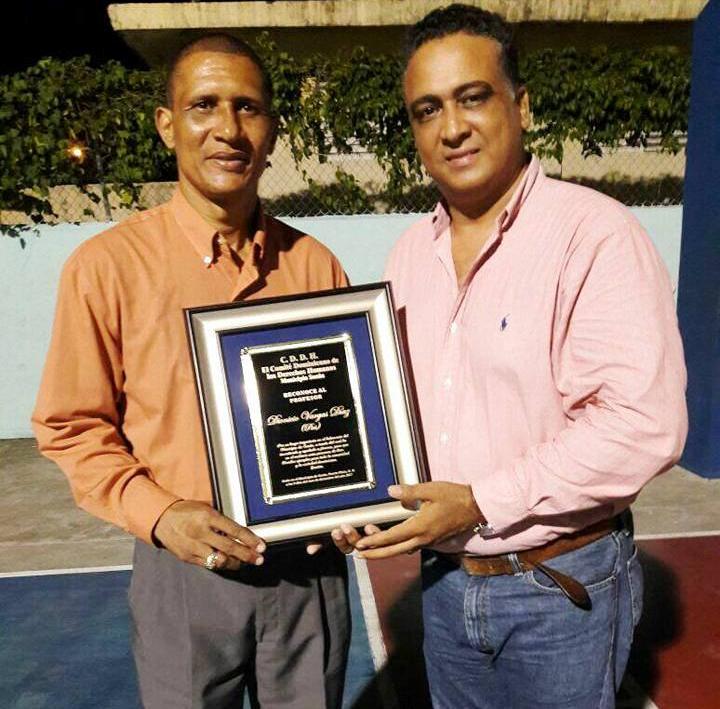 Dionicio Vargas Díaz
The local branch of the Dominican Committee for Human Rights, chaired by Manny Brito paid tribute to two important Sosúa residents. Dionicio Vargas Díaz received this honor because of his sporting career and his commitment to the sport among the youth of Sosúa. Also businessman José Moya was honored with a certificate of appreciation for his tireless efforts as chairman of the neighborhood committee and organizer of sports activities for youth. This ceremony took place Saturday December 9 in front of a large audience of several hundred residents in the Sosúa courthouse.
---
13 December 2017
Friday December 22 and Saturday December 23 there will be two grandiose music concerts at the amphitheater at the La Puntilla on the Malecón of Puerto Plata. Six nationally known and famous bands will perform for a wildly enthusiastic audience with original Dominican music. On Friday Milly Quezada and Miriam Cruz will do a gig. They are known as la Reina and La diva del Merengue. On Saturday four quality bands will perform. First the salsa group Alex Matos. This followed by the urban group Mark B. After that the merengue group Divas by Jimenez will perform.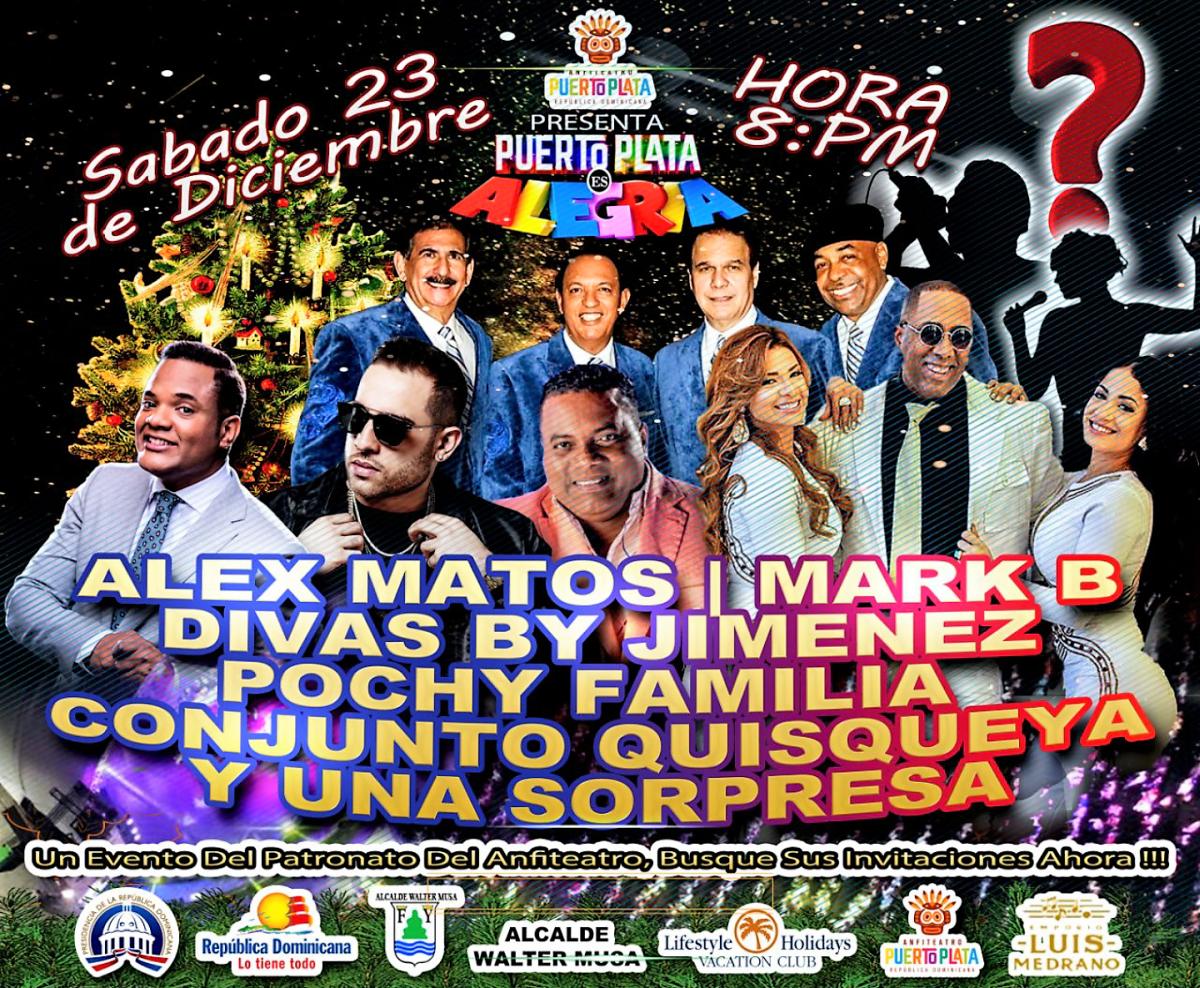 Puerto Plata es Alegria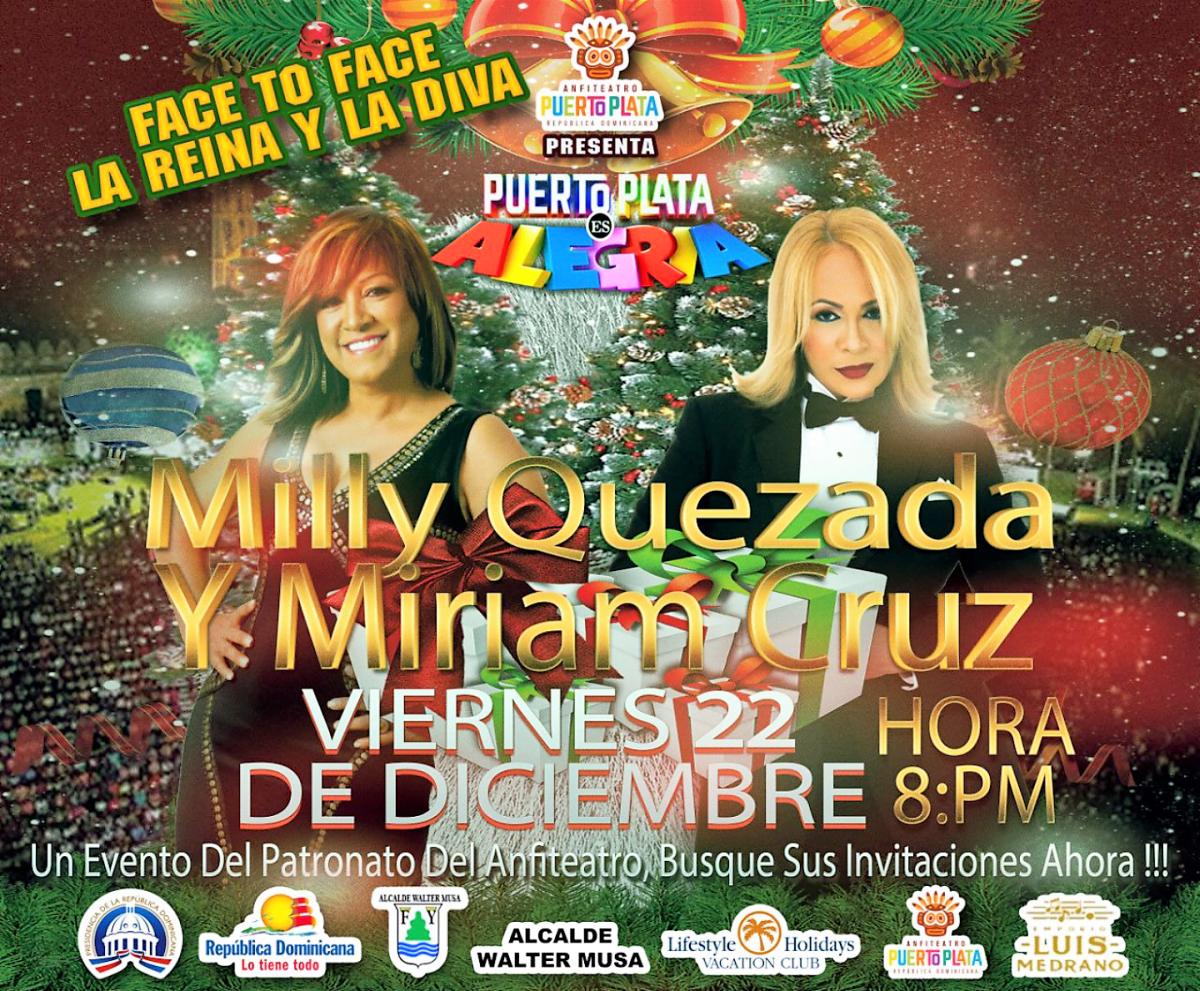 La Reina & La Diva
The evening ends with the merengue, salsa and bachata group Pochy Familia. So two splendid musical evenings in a beautiful theater. On Youtube you can find more info about the performing bands.
We recommend visitors to Sosúa to take advantage of this unique opportunity to enjoy real Dominican music. Hire a taxi out for this evening with a group of 6 to 8 people and have yourself transported comfortably to Puerto Plata. Talk to the driver and tell him when you want to be picked up. You will experience a great night.
---
12 December 2017
The Casa de Arte string orchestra made a tour through the streets of Sosúa, last Sunday, December 10th. They started at Villa Liberación in the early afternoon. Next they went to La Unión, Los Castillos, Bella Vista, Sosúa Abajo, Los Charamicos, La Piedra to end at the Supermercado Playero. Everywhere where they performed the public was surprised but very enthusiastic about this special Christmas gig in their neighborhood or supermarket. The string orchestra consists of about 30 people, mostly girls, who were offered to borrow a violin, viola, cello and double bass three years ago.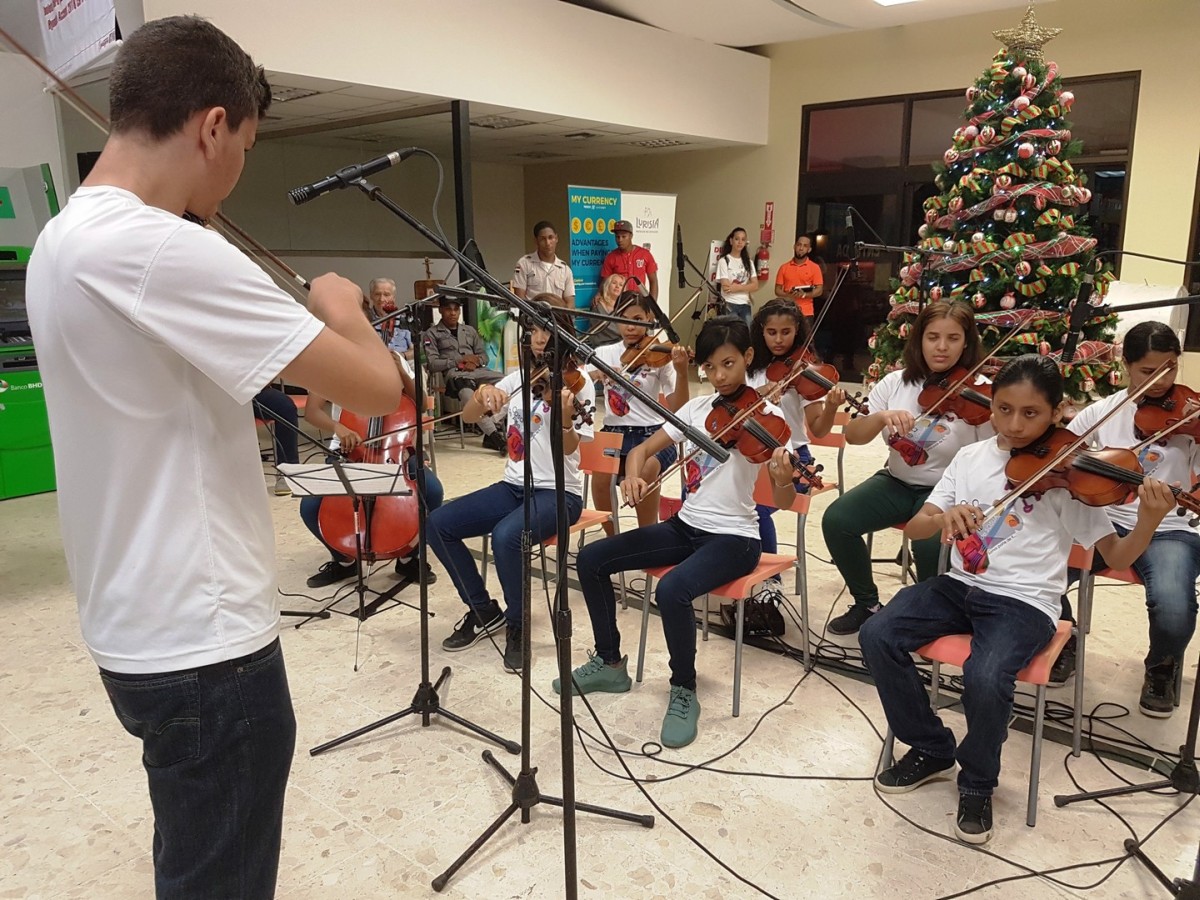 Concierto de Navidad @ Playero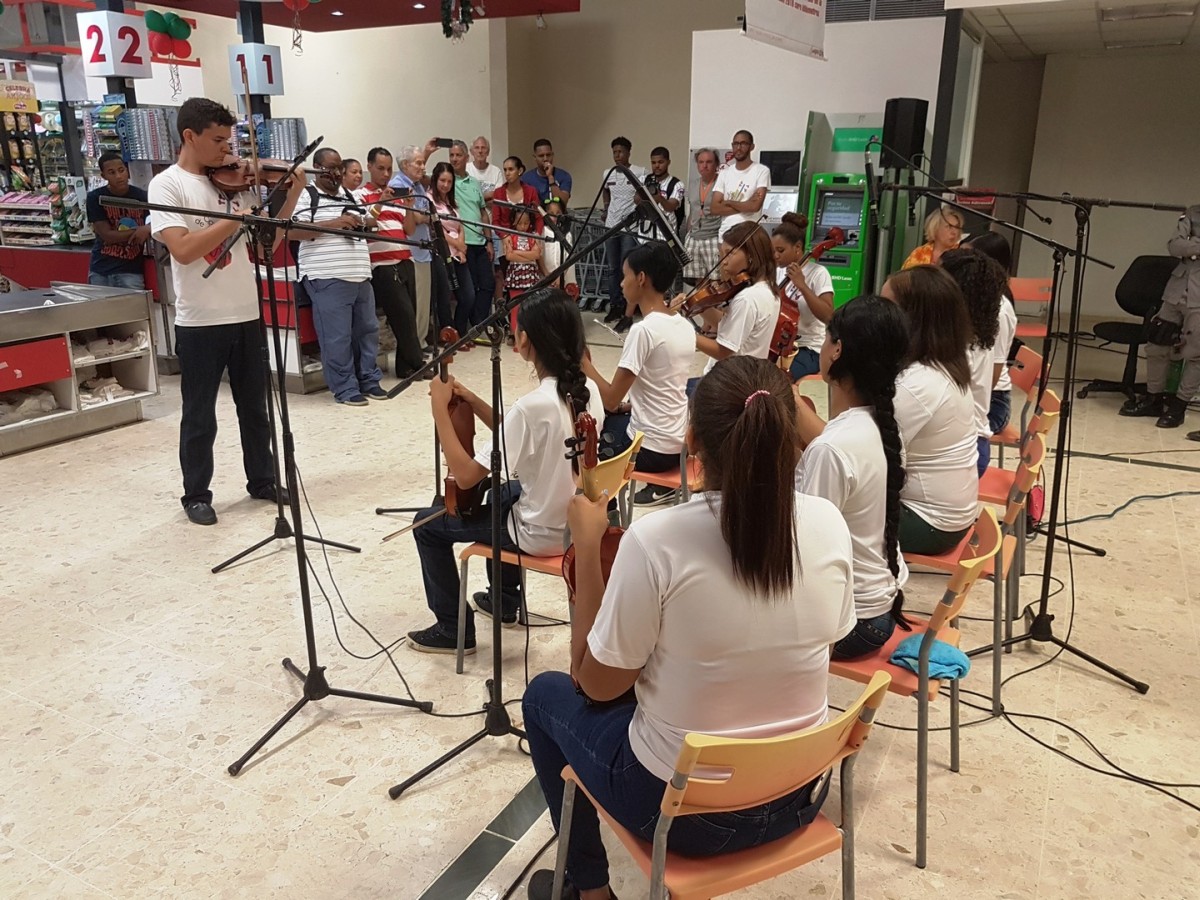 Concierto de Navidad @ Playero
It was in February 2014 when the foundation 'la Fundación Educativa de Jazz' (Fedujazz), had about thirty instruments available. During this Christmas tour the orchestra consisted of eight girls and two boys. They were chosen because they are the most advanced. The orchestra played really very nice. It was clear that many hours had been spent in preparation. The string section was accompanied by Mayor Ilana Neumann and director Adolfo Faringthon.
---
11 December 2017
Recently members of the Rotary Club Sosúa organized a benefit dinner to support the Mustard Seed Foundation. The Mustard Seed Foundation takes care of neglected mentally and physically disabled babies and children. They do this in a home in Cangrejos and currently have about more than 20 children under their care. The guests at the charity dinner were received by Alicia Katz with a welcome drink and some snacks. The coordination of the meeting was in the capable hands of Mrs. Belquiz Oglivie, the president of the Rotary Club. Present were representatives of companies and government authorities. During the dinner, the saxophonist José Taveras provided the musical ambiance. After dinner Kashmir Jones and Tony Almont played hip hop and Latin music for the guests.
---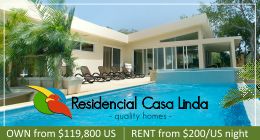 Sosúa
¿Qué pasa?
««««««« »»»»»»»
---
---
---
---
---
---
---
---
Arrival and Departure Puerto Plata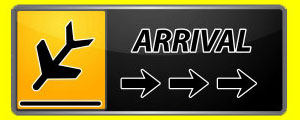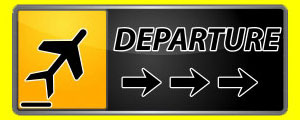 ---
I love Sosúa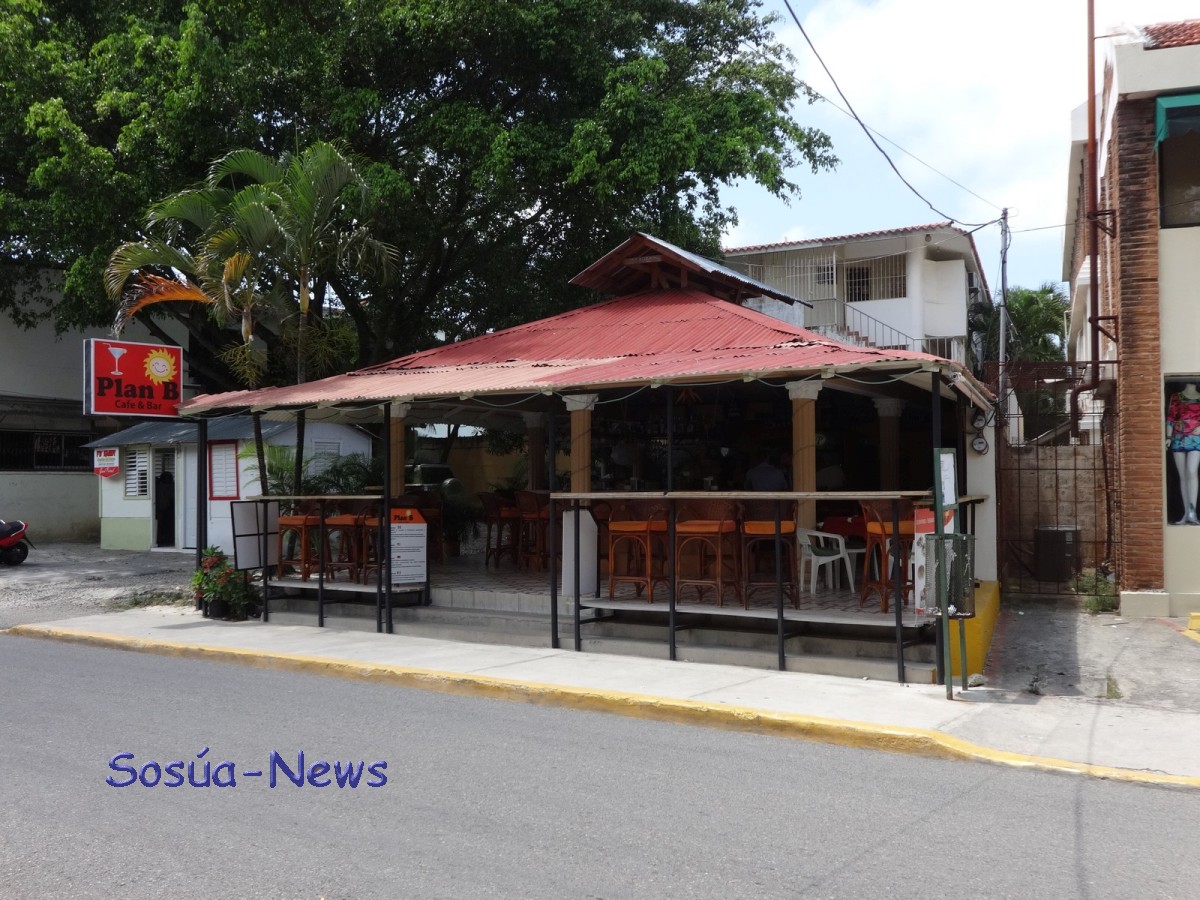 More news:
10 December 2017
9 December 2017
8 December 2017
7 December 2017
6 December 2017
5 December 2017
4 December 2017
3 December 2017
2 December 2017
1 December 2017
30 November 2017
29 November 2017
28 November 2017
27 November 2017
26 November 2017