22 October 2014
Saturday October 18, a warm evening with distant flashes of lightning and thunder. Luckily, it remained dry and the guests on the street in front of several restaurants could enjoy their meals undisturbed. It turned out to be double enjoyment because opposite the Britannia Pub a band actually played very well. The singer of the band had a beautiful voice with and sang also surprisingly varied. We heard blues, funk, rock and salsa songs.
Calle Pedro Clisante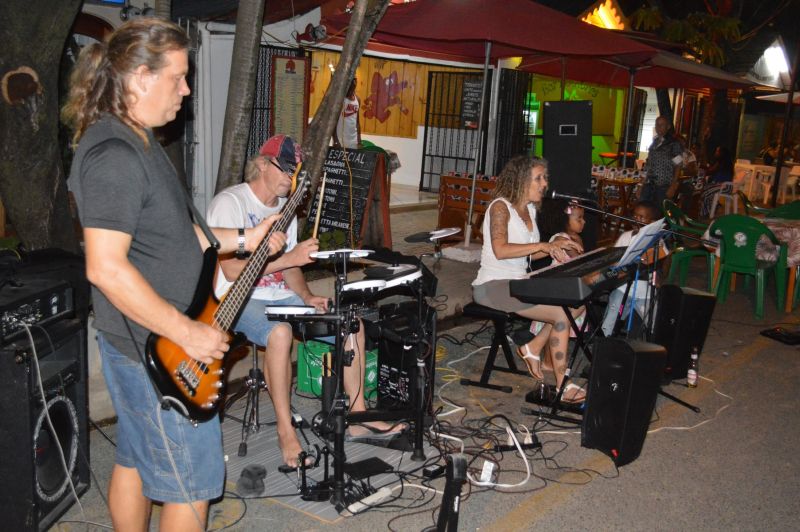 Calle Pedro Clisante
In front of the various restaurants, the owners had placed tables and seats in the street that were reasonably well occupied with residents and guests of the hotels. The owners of the restaurants in the Pedro Clisante each had brought together part of the costs to arrange this excellent band. For the next Saturday evenings the owners of the restaurants of the Pedro Clisante will organize other festivities.
---
---
21 October 2014
Every Friday night there's a party with a theme in restaurant / hotel Don Andres in Sosúa. Last Friday October 17 the theme was 'Dominican Night'. This time not the well appreciated BBQ, but a series of authentic Dominican dishes were served. The buffet offered the guests salads, Sancocho soup, pica pollo, rice with chicken, lambi (conch meat) with sauce, beef in special sauce, white rice, Dominican lasagna and for dessert, sweet rice milk with raisins. After initial hesitation of some guests for whom these were strange dishes, they did appreciate all this delicious authentic Dominican food. Even the biggest doubters had to admit it was very tasty. At nine o'clock the dance group of Emily Watson School of Dance arrived. They started with a beautiful dance show at rousing Merengue music. Then the dancers took the guests to the dance floor to teach them to dance Merengue.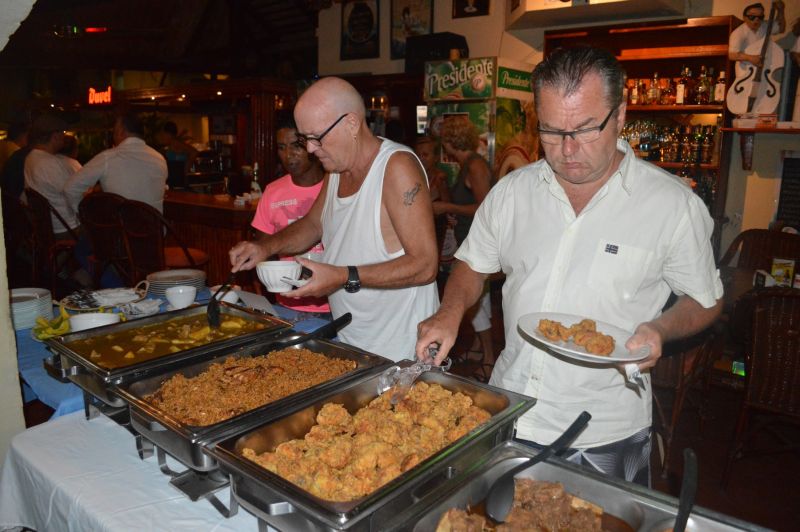 Dominican night at Don Andres
It may be said, there was a lot of talent among the attendees. After a short time they were able to dance a few steps Merengue.
In short, it was a great night.
Coming Friday October 24 it is 'International night' with international music.

Pictures: www.youtube.com
---
20 October 2014
They are still working hard on the second floor and third floor of the Jolly Rogers restaurant under construction. As a reminder, on Monday March 17, 2014 the popular restaurant burned to the ground. It was thought to be malice but the suspected arsonist could not yet be arrested by the police. Fortunately, Patty and Kelly, the owners of Jolly Roger, were offered help from all sides. Since mid-July, a lot of work has been done in the main street Pedro Clisante # 11, opposite restaurant Tipico Alberto.
Calle Pedro Clisante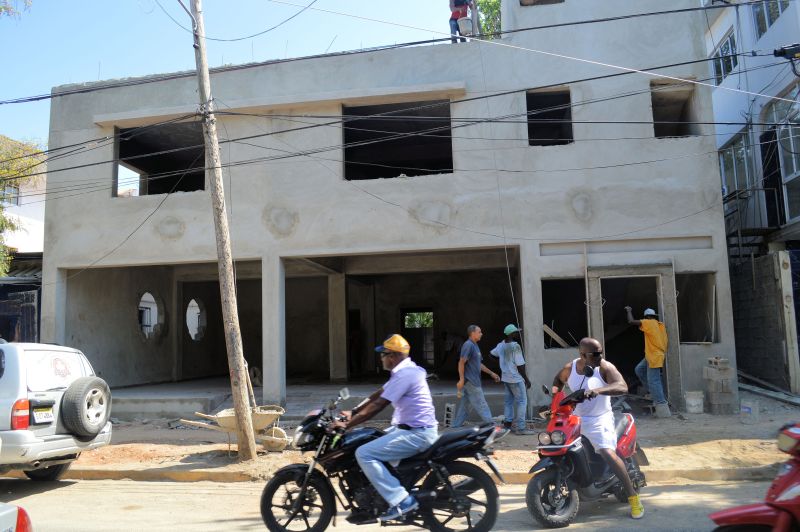 Calle Pedro Clisante
Sosúa-News continues to keep you informed of the progress.
But there is more.
Also the Italian restaurant next to the Britannia Pub was completely demolished and is now fully rebuilt again. This restaurant also nears its completion. Probably we can celebrate at the end of November the opening of two new restaurants in the Pedro Clisante.
The atmosphere in the street keeps getting better.
---
19 October 2014
After the death of Dirk Weber (Sosúa Rental Service) in January, I, Christian Vogt, as his friend and colleague, wanted to continue his work. We already established the company Dominican Estate in 2004, so now both segments sales and rentals are united. We specialize in good and very cheap offers and sales as well as rentals. Currently we have 2 houses with 5 bedroom and pool for 700 USD / month and 730 USD / month in rentals. A house with six bedrooms and pool costs 1,000 USD / month. These are prices you will not find anywhere else in the Sosúa - Cabarete area. Apartments in the center of Sosúa start at 350 USD / month + utilities. New luxury apartments in the center of Sosúa at 430 USD / month + utilities. For sales we have very good deals, because most of sale offers are totally over-priced, we dont even take those on in our listings. '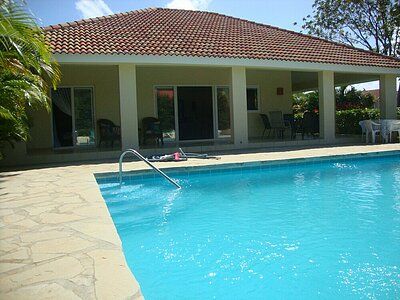 dominican-estate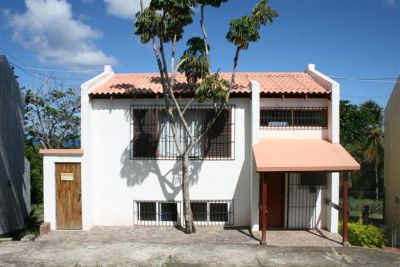 dominican-estate
We also have fire sales, Financing, etc. We currently have 3 plots of land almost on the beach from $ 15.575 in a gated community near Cabarete without building obligatons. We can also give you advise on whatever issue about the house, apartment, land or even in commercial investment or construction. If you do not want to browse countless websites with over-priced offers, just have a look at our website.
Should the day come when every over-indebted and troubled currencies like Euro or U.S. $ collapse, then you have a house, Apartment or land with a real value, while others will lose in a currency reform their life savings. This is also the reason why real estate is called 'Real Estate', because the word 'real' means real (value)!

Christian Vogt
---
18 October 2014
Saturday October 11 the jazz quartet 'Bwakoré' from the island of Martinique gave a concert in the park Mirador in Sosúa. The concert came about thanks to the cultural cooperation with France Alliance of the island. Martinique is a French overseas department. The band Bwakoré incorporates original ancient indigenous music and melodies into contemporary jazz compositions. The concert was attended among others by French Ambassador Blandine Kreiss, Mayor Ilana Neumann of Sosúa and the Deputy Tourism Minister Julio Almonte.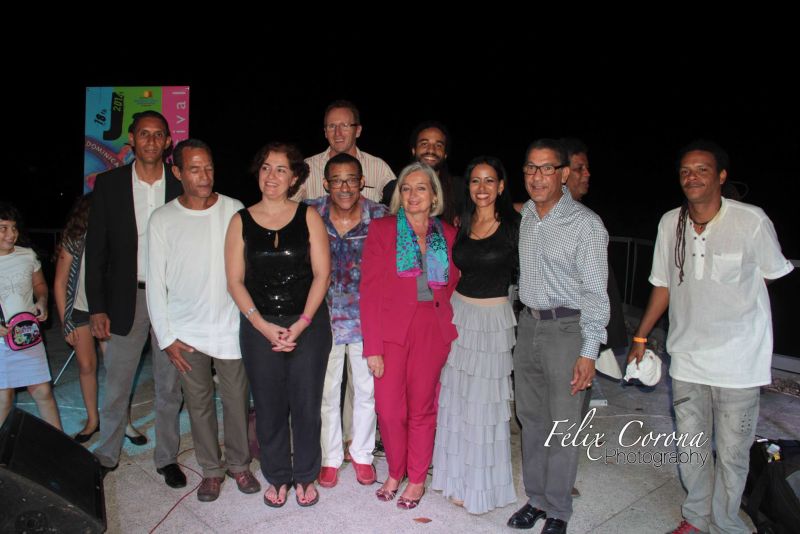 Bwakoré in Sosúa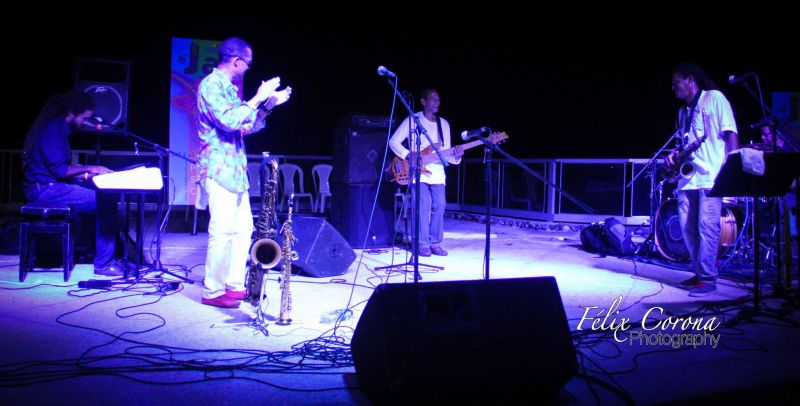 Bwakoré in Sosúa
Furthermore the director of Casa de Arte Adolfo Faringthon and representatives of FEDUJAZZ foundation, María Elena Gratereaux and Alain Aumis. The FEDUJAZZ foundation organizes every year in November, a jazz festival in Puerto Plata, Sosúa and Cabarete. The performance of Bwakoré may be seen as a taster for the Jazz Festival. In the morning, prior to the concert, the musicians of Bwakoré gave a workshop at Casa de Arte for the students of the violin.

Information and photos: Félix Corona (Press officer municipality Sosúa)
---
Sosúa
¿Qué pasa?
««««««« »»»»»»»
Fiesta Halloween
---
Residencial Casa Linda
---
Voramar Tropical Hotel
---
Arrival and Departure Puerto Plata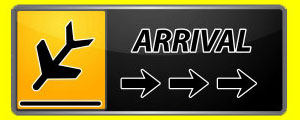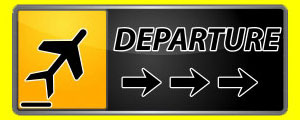 ---


---
17 October 2014
16 October 2014
15 October 2014
14 October 2014
13 October 2014
12 October 2014
11 October 2014
10 October 2014
9 October 2014
8 October 2014
7 October 2014
6 October 2014
5 October 2014
4 October 2014
3 October 2014